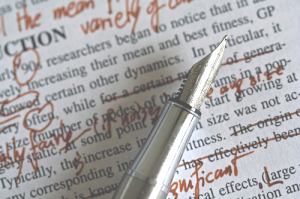 Your Writing: Getting the words out of your head and on paper.
TST Editing: Your words, only better.
Once you've got your message out of your head, I'll edit for clarity, consistency, spelling, grammar, voice and branding.
Read on to choose the editing service that best meets your needs.
TST Editing Services
Proof editing. A thorough word-for-word proof for spelling, capitalization and punctuation. Unless otherwise directed by the client or by a branded style sheet, I edit according to the Associated Press Stylebook.
Copy editing.  Includes correcting mechanical errors as well as style, syntax and usage errors.  I work directly with clients to correct ambiguous references, awkward sentence structure, wordiness and inconsistencies, as well as review tables, figures and other infographics for accuracy and consistency.
Content editing. Content editing includes all of the above as well as direction for blog organization, research to verify information and rewriting to improve readability and flow of information.
Editorial project management. In addition to providing content editing, as an editorial project manager I coordinate timing of guest posting, editorial calendar planning, and facilitate discussion response with readers. Depending on the preference of the blog owner, I will make content and structure changes directly to the blog, or suggest changes for the author to do the rewriting.  In addition, as necessary, I will conduct research to verify facts or quotes in the blog.
Let's get started. Contact me today.