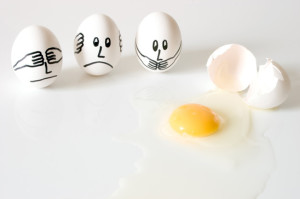 Confession time – I love my job as a coach because I can shine attention on others. When their success stands front and center, I get so excited.
When I ask others "how can I help you?', I mean it. Besides answering business development questions and sharing resources, often I make referrals between friends and colleagues.
Recently a friend asked if I had any recommendations for a web designer. I've worked with several web designers and immediately I told her yes. I called my web designer; he was interested. Voila! The match was made in a matter of minutes.
But was it a match made in heaven?
Good referrals
Know and respect both parties.
Know the referral partner will come through with timely, quality work.
Know the referee will pay bills in a timely manner.
The buyer has an immediate need that the business can solve.
Logically, this was the perfect match. But business relationships – a three-way if you will – among the buyer, the business and the referral partner survive on emotional perceptions. After all the work is completed and the bills are paid, lasting impressions hang on the feelings surrounding the business engagement. Was it a good experience?
When the experience spoils, it's a bad egg
Here's the "to refer or not to refer" clincher  that I want to share. The four points listed above are important in determining whether or not to connect friends, family members and acquaintances to your network of influence.
Equally as important are the consequence of a referral. If you answer NOPE to any of these five questions, the referral is a bad egg.
Would I work with the business representative for whom I am making the referral?
Will my referral partner have a good experience with this business?
Will my referral partner be able to avoid scope creep?
Will  the business representative present me in a positive, professional manner?
Am I improving my reputation within my referral network?
If you are like I am, always wanting to help, first consider the consequences of the referral business relationship before being Ms. Nice Gal. Just say no!
If you like this post, we are discussing topics just like this in TST Group Coaching: The Essential Membership for Business Success. Membership is free for the first 7 days.  Join here.
Not ready to join but want to read more about how to PROFIT from your online marketing efforts? Download a FREE eBook that will tell you how.